Ducts Cleaner Houston Texas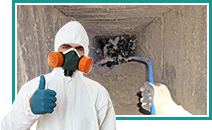 Have you ever wondered what lies in your air passage ways? You probably haven't and need to consult with an Air Duct Cleaners expert who can show you what is in your ductwork. Ducts Cleaners Houston can help your family experience a cleaner environment in the house and lower your doctor's bill if they have to see the physician regularly due to allergies.
Residential Air Duct and Vent Cleaning Experts
Our Home Air Duct Cleaning experts have extensive training in providing homeowners with an atmosphere that is good and conducive to raising a family. How do they do this? They have technology and the right equipment for extracting the animal dander, dead insects, pollen and mold and dust mites from your ducts. It is imperative that you get these air passes cleaned regularly and often if you don't want to have the kind of health issues that may arise from pollutants invading your home.
Ducts Cleaners Houston is ready when you are and will reliably come to your residence equipped with all the tools that are necessary to do a great job for your family. Additionally, you should expect us to do such a professional job that we don't soil your furnishings, carpets or tiled floors when we work. We make every effort to cover all our work areas and to clean up after ourselves before we leave. You will certainly be pleased by the results you achieve and the way we work.